What KB CloudERP Offers That Other ERP/POS System Does Not?
Here are the top-six features that we introduced to run your business like a boss and outperform your other business competitors.
Customer Reward Points
Give Reward Points to your customers with each order amount to increase customer retention rate.
SMS, Email & Whatsapp Notifications
Send each-step notifications to your customers and vendors to gain trust and visibility of your business presence.
Chat-GPT AI Assistance
Use Chat-GPT AI assistance to write business email, proposals, reviews, social media post and many more.
Full Nepali Language
Use the full Nepali language system with Nepali invoice for individual user without affecting other users in the business.
2 TAX With 2 Locations
Use VAT & PAN both system in one subscription by assigning 2 different locations with separate inventory, pos, & other reports.
Digital Payment System
Give your customer ability to pay digitally using invoice URL directly to your merchant account. (works for invoice, due & ledger)
Create A Real-Time Control
It is one of the best cloud ERP system in Nepal.
It is smart, simple online ERP & CRM software for small to large business
manage stocks, track expenses, manage vendor & customer contacts, add multiple warehouses, run reports, and even more all from one place.
Get Everything In Your Hand >
This is one of the best mobile POS systems for small businesses in Nepal along with the features packed CloudERP system.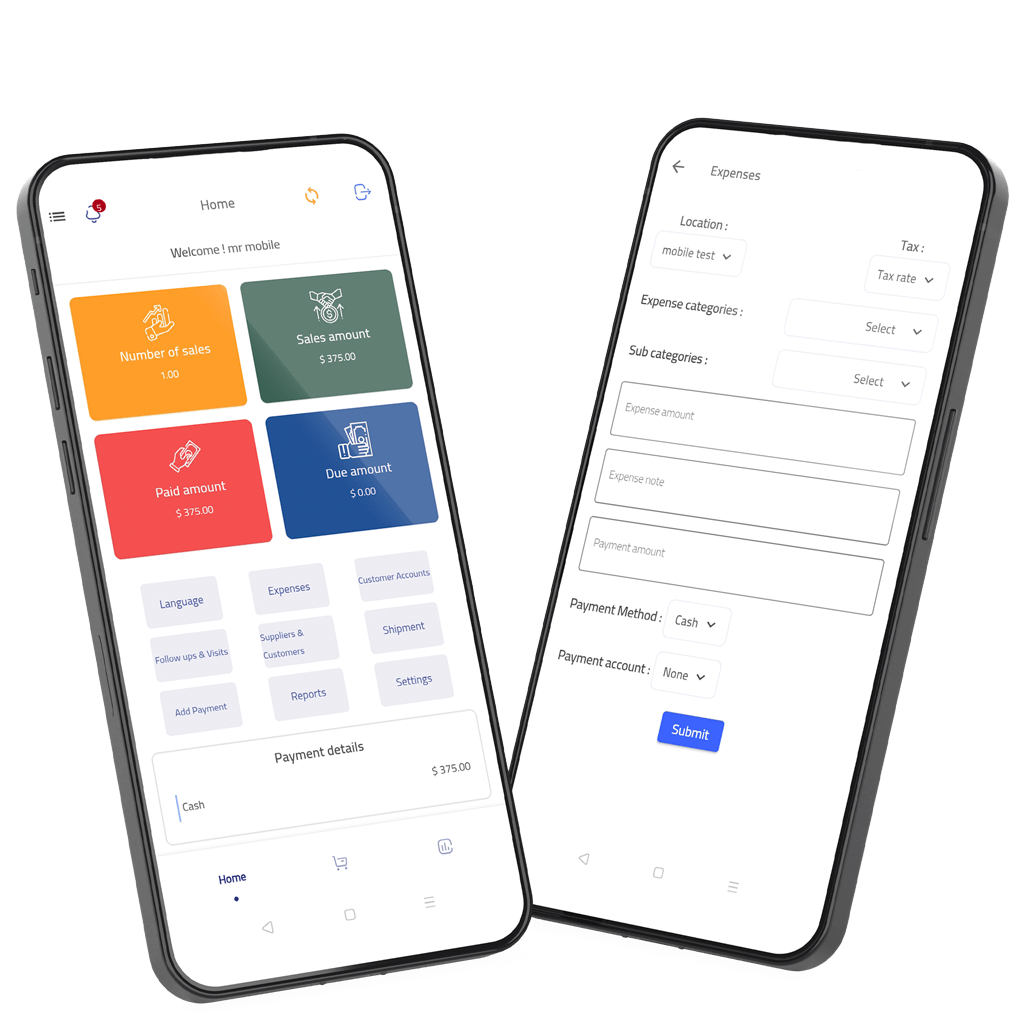 Noted : Some Extra Important Features
Configure SMS,

Email

& WhatsApp

features to send messages or notifications to your suppliers for every new order, payment paid, item received, item pending, and pending orders. 
Also, every customer can get an

SMS,

Email

& WhatsApp notification

for every purchase, payment received, due reminder, new booking, new quotation, or repair they made.
You can also automate the payment-due reminder using SMS, email & WhatsApp notifications when customers exceed the due time, the system will send a message automatically.
to manage your inventory more precisely, you can also add the row and position of your rack to find it very easily. 
Send Ledger to your customers as well as your suppliers from the notification panel with full customization.
Add your barcode style to manage your stocks.
No need to worry about entering SKU if you don't know how to do it, just leave it blank, and the system will auto-generate for you.
Different price selling groups for different types of customers like normal customers, wholesalers, retailers, government employees, and many more.
Configure your printers to print invoices with Bluetooth connected device or a computer.
You can use predefined barcode sticker settings or create your barcode sticker setting if you wanna make your own.
Add tax rate groups if you want the combination of multiple taxes for purchases/sells.
Manage sales commission agents If you have any.
Completely design your invoice style depending on your business type and personal preference, like a tiny slip invoice, modern invoice & classic invoice.
Create and send quotations to your customers without hampering the stocks.
It supports a barcode scanner

and

receipt/thermal printer

(All Printers with ESC/POS commands).
HSN/HS code feature which stands for "Harmonized System of Nomenclature". It is a systematic classification of goods all over the world. HSN code is a 6-digit uniform code that classifies 5000+ products and is accepted worldwide.
Enable subscription base Invoice In automation if you run a subscription business like a hosting company, digital store, and more.
Weighing scale barcode support, where you can scan the barcode from the weighing scale and submit it.
Businesses That Can Be Managed With Our CloudERP Solution
We have a pricing structure for every type of business or shop that you own, feel free to choose a perfect plan to run your business smoothly.
The additional setup charge is not mandatory* you can also do it by yourself but if you want to set it up correctly it's better you take our setup service.
KB CloudERP reserves the right to change pricing at any time.
Free Plan offers 999 years model so if you are using more than that you might need to upgrade your plan unless we extend more. For the customers on Professional, Business & Other Existing paid plan subscriptions charges may apply if they want to add custom features.
Invoice limits for every plan apply to both approving and sending invoices for monthly limits in monthly plans and years limits of yearly plans (Note: only applies if any plan has a limited invoice). 
Secure Cloud Storage
Worried about losing your data? Don't worry we have Bank-level security that keeps your data stored safely in the cloud. If you ever lose your data contact us right away.
Satisfaction Guarantee
Start a free 7-days trial today, no credit card is required. You can cancel anytime with a promise that you are free to provide any valuable feedback to improve the platform.
SSL Encrypted
KB CloudERP protects your personal info and your client's info with industry-standard SSL and encryption so everything is always safe and secure.
This cloud web application is managed, run and own by KB Group X, for further details visit kbgroupx.com
Frequently Asked Questions
Feel free to ask anything through our support ticket system, or you can check out the listed queries, you might find something useful.
Is your offline shop suffering to manage stocks? Don't know how to run automation? Get our Cloud ERP & CRM web application now.