Sync Your Woocommerce Inventory & Sales
If you are wondering how to manage your inventory because of your offline sales and online sales on different platforms. Don't worry we covered that for you, you can directly sync your stocks and sales from woocommerce to our ERP system. Doesn't matter where you do or change the stocks it will sync automatically.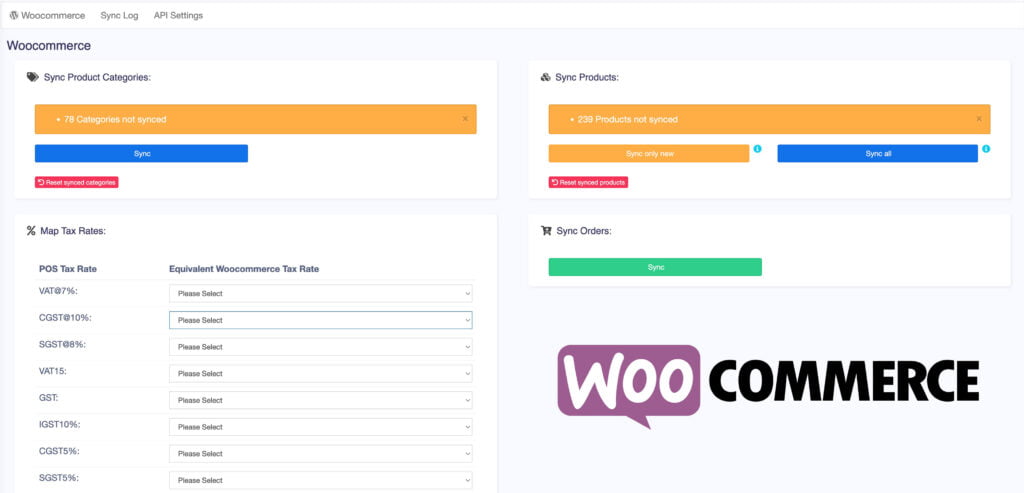 Customers these days prefer to shop online; this saves their time, provides a wide range of options to choose from, and has many other advantages.
So, having a Web Shop or E-Commerce website is important these days. It brings a lot of online sales apart from offline sales in the shop.
As an offline shop/business owner going online can be difficult & time taking. You will have to set up a new webshop. Along with it, you have to always keep adding & updating product information in multiple systems, manage inventories, manage orders, etc; which gets cumbersome, time taking, and repetitive tasks.
Imagine a case where you will have to manually update new stocks, and outdated stocks in both POS & online stores multiple times a day or even a week; won't it become a hectic task?
Again you will have to enter online orders into POS or accounting software to get your business accounts sorted, painful, isn't it?
Customer Loyalty: with customer information split into multiple systems (POS & online store) getting the right data for customers can never be correct.
KB loudERP solves all this for your business, and you can go online in minutes.
All you need is a "KB CloudERP to WooCommerce Module" installed in your KB CloudERP and a WooCommerce Shop setup. And you're ready to sell your products to customers worldwide.
Who needs it?
This module is optional. You can use it or run KB CloudERP without it also.
You need it if you have an offline store & want to diversify your income with an online store easily without having to worry about inventories, checking order in multiple applications.
Why do I need it?
It solves the most painful problem for business owners. Makes managing both – online & offline store easy peasy.
One System to manage both. Life cannot get much easy.
Check out all the features listed below to know more about our Woocommerce sync feature so you can use more efficiently depending on your business need.
Synchronization of Orders
The second problem of managing orders & keeping your accounts sorted gets solved here.
With a click of a button sync orders from your online customer to POS.
No matter what – Inventories automatically get adjusted.
Customer information automatically gets synced & orders get into the customer account.
Special Tag to highlight the WooCommerce Order.
Synchronization of Products
The very first problem of products & inventories gets solved the moment you install the addon.
Enter the details of your product once, that is only in your POS software.
Click on Synchronize Products button & it's done. All product information gets sent to your WooCommerce store.
Products Name, Price, Inventory, Categories, tax information, and other details get added to your WooCommerce shop.
You can also set different prices for your WooCommerce customer. Give them a special price.
KB CloudERP reserves the right to change pricing at any time.
Free Plan offers 999 years model so if you are using more than that you might need to upgrade your plan unless we extend more. For the customers on Professional, Business & Other Existing paid plan subscriptions charges may apply if they want to add custom features.
Invoice limits for Every plan apply to both approving and sending invoices. 
Secure Cloud Storage
Worried about losing your data? Don't worry we have Bank-level security that keeps your data stored safely in the cloud. If you ever lose your data contact us right away.
Satisfaction Guarantee
Start a free 7-day trial today, no credit card is required. You can cancel anytime with a promise that you are free to provide any valuable feedback to improve the platform.
SSL Encrypted
KB CloudERP protects your personal info and your client's info with industry-standard SSL and encryption so everything is always safe and secure.
Is your offline shop suffering to manage stocks? Don't know how to run automation? Get our Cloud ERP & CRM web application now.